Best knee sleeves for squats
​
In this article, we will review six different knee sleeves. They are:
​
After weeks of limping around with painful leg cramps, my trainer recommended I give knee sleeves a try. At first, I was convinced that my new neoprene sheaths were no better than glorified sweatbands. However, a few workouts later I couldn't stand to perform a squat without them.
​
If your an athlete who performs squats or another knee-intensive exercise regularly, knee sleeves may help provide you with the support and stability you need to take your workout to the next level. By insulating and applying pressure to the joint, sleeves can also speed up recovery and prevent injuries.
​
If you're curious about the benefits of knee sleeves, read along to learn more about how they work and discover our top five knee sleeves for squats.
​
What do knee sleeves do?
​
​
Knee sleeves are fabric sleeves that wrap snuggly around the kneecaps and surrounding areas of the legs. They provide joint support, warmth, and alleviate pressure on the leg muscles. By compressing this vulnerable part of the body, knee sleeves can also prevent damage or injuries. What's more, they can help to stabilize the muscles, increase blood flow, and eliminate discomfort so that you can improve your performance.
​
What should you look for?
​
​
When choosing a knee sleeve, take a close look at the stitching, materials, compression element, and insulation potential. Remember, knee sleeves come in a variety of thicknesses.
For weightlifting, athletes typically prefer the five to seven millimeter sleeves. These are the thickest and provide the most compression and least flexibility.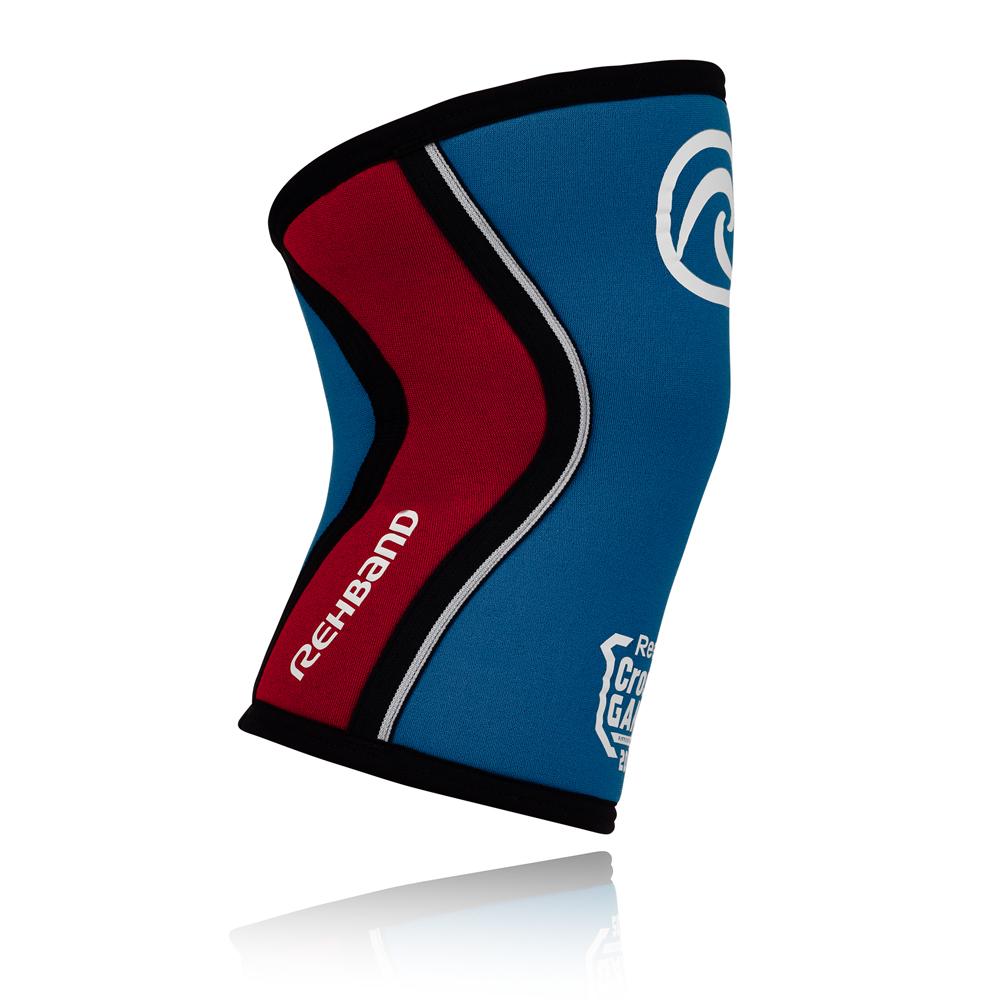 5-7mm
For Crossfit, three to five millimeter knee sleeves provide ample support with slightly more flexibility.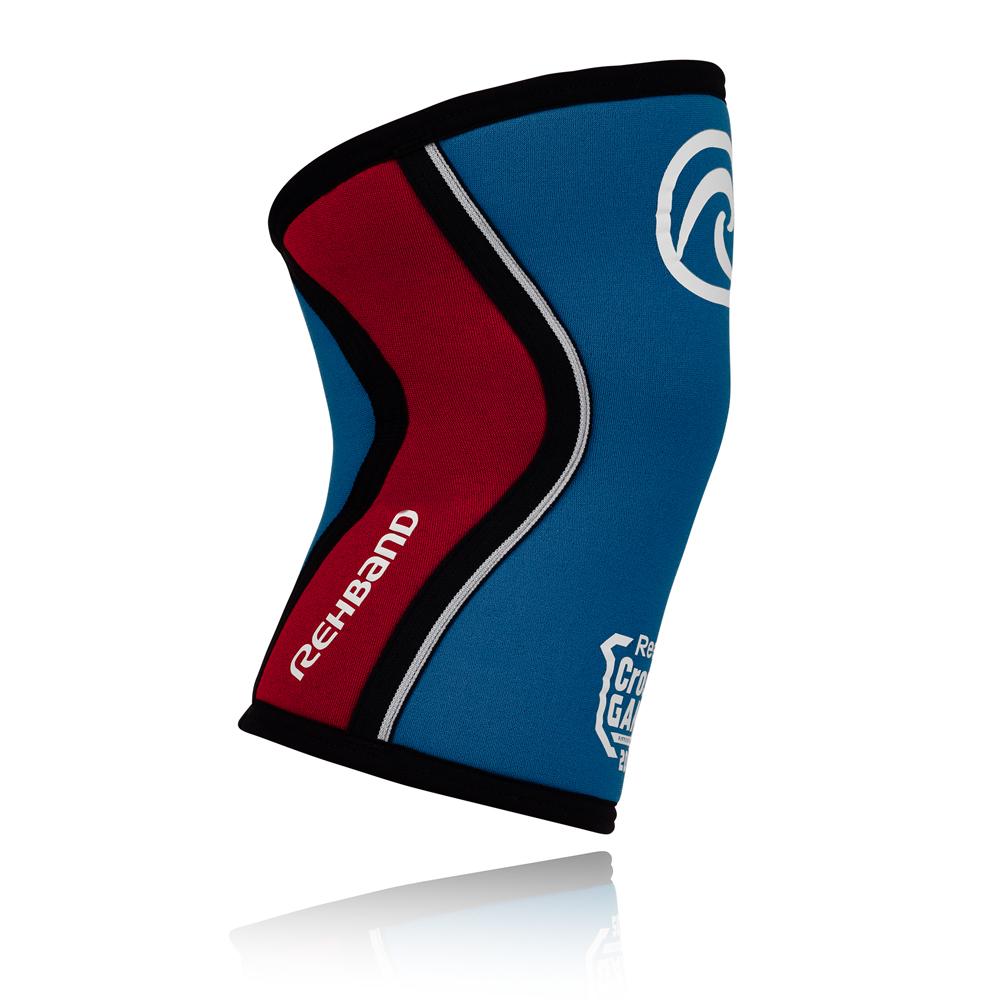 3-5mm
​
​
Rehband's five millimeter Crossfit knee sleeves feature patented three=dimensional contour technology. This anatomically correct design element helps to improve mobility and provide consistent support while warming and soothing the patella. What's more, the sleeves feature reinforced comfort seams.
Rehband has been manufacturing joint support technology since 1955. They pride themselves on combining science with athletic expertise to create exceptional sports accessories. With consistent support and ample flexibility, Rehband Rx 2017 is no exception. Nevertheless, the blue and red color scheme and CrossFit Games logo pairing is part of a limited commemorative series. If you're wondering whether this sleeve is actually acceptable for Raw and Open competition, the answer is yes. It is both IPF and IWF legal.
​
Rehband's seven millimeter black Rx knee sleeve is designed to give you the next level of support. When it comes to rehabbing your patella or maximizing your weighted squat reps, this SBR/Neoprene sleeve provides nonstop joint compression. Moreover, the three-dimensional contours assure that the sleeve shifts gracefully with the movement of your body. Made from premium synthetic fabrics, Rehband products are super insulated garments that provide a warm environment for your joints and muscles.
Sleeves are sold individually and come in sizes XS to XXL. They are solid black with white contour lines and offset logos.
​
If you're a runner or endurance athlete, Rehband's three millimeter Rx sleeve will provide just the right amount of compression and flexibility. Featuring a bold anatomical structure, this knee sleeve helps to stabilize muscle function. Moreover, it reduces energy waste and even shortens your warmup time. While you may want to increase the thickness of your sleeve to five millimeters or more if you are going to be lifting weights, the three millimeter sleeve is perfect for motion-intensive activities such as running or rope climbing.
It is available in sizes XS to XXL. Color combinations include white & black, black & pink, black & red, and black & purple.
​
Hookgrip knee sleeves provide maximum warmth without inhibiting your range of motion. They are made of a super light nylon, rubber, and spandex blended fabric. While you won't feel as much pressure as you do with the Neoprene alternatives, these flexible sheaths are perfect for squats, deadlifts, and cleans.
The Hookgrip 2.0 was created after customers complained that the original Hookgrip didn't have a firm enough fit. The company quickly resolved the issue by shortening the length of the sleeves. These knee sleeves are sold in pairs and come in sizes small, medium, and large.
​
Nordic Lifting's seven millimeter neoprene knee sleeves provide unmatched compression during intensive Crossfit and powerlifting workouts. In fact, they help to retain heat, reduce stiffness, and support strained joints. Meanwhile, the sturdy material and reinforced stitches eliminate the worry of slips and tears. What's more, Nordic knee sleeves feature a one-year hassle-free warranty. If you aren't 100 percent satisfied with the product just send them back to the manufacturer.
Nordic Lifting's sleeves are sold in pairs and feature a classic black & white color scheme. They are super thick and can be worn during intensive workouts or for recovery.
​
Gymreaper knee sleeves are extremely durable seven millimeter neoprene compression garments that are perfect for squats, weightlifting, and everything in between. They feature reinforced stitching and snug neoprene that seals in heat. What's more, they have an orthopedic support system that helps prevent and heal injuries. You'll find that you can perform more reps and throw on more weight when wearing these compression garments.
They come in a variety of color combos, and each sleeve is emblazoned with a screen printed skull. Choose between sizes small to extra, extra large. Gymreapers feature a 60 day money-back guarentee and a full year risk-free warranty.
​
​
​